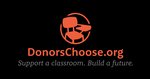 Mission Statement:
"We make it easy for anyone to help a classroom in need, moving us closer to a nation where students in every community have the tools and experiences they need for a great education."
In 2000, Charles Best, a history teacher at a Bronx Public High School, was making photocopies of the book Little House on the Prairie because he wanted his students to read it, but did not have any funds to get enough copies for them. As he was copying page after page, he thought about all the money he and his colleagues spent on books, art supplies, and other materials. He knew there were people out there that wanted to help, but a simple donation would not guarentee that the money would go to the teachers who asked for it. And that's where the idea for Donor's Choose was created.
Charles sketched out a website where teachers could post classroom project requests, and donors could choose the ones they wanted to support. His colleagues posted the first 11 requests. Then it spread. Today, we're open to every public school in America.
Find out more at Donor's Choose